Directions to Elope to Coronado
---
We had the pleasure of working with both Chaplain Mary and Rev. Christopher, they were absolutely wonderful! We eloped on 4th of July and with all that entails, they truly went out of their way to make sure our ceremony was beautiful. – Andrea (WeddingWire)

Coronado, also known as Coronado Island, is a resort city located in San Diego County, California, across and around San Diego Bay from downtown San Diego. Coronado is Spanish for "crowned one", and thus it is nicknamed The Crown City.
---
Please add extra time for traffic issues with the directions below. To avoid traffic issues additional directions are listed below….. :o)
Directions to Elope to Coronado – DUNES LOCATION

"RIDE-SHARE" STREET ADDRESS: 1063 Rh Dana Place Coronado, Ca
GPS COORDINATES: 32.682071, -117.180813
From Interstate 5
Take Coronado Bay Bridge West (Highway 75)
Turn left on Orange Ave
Follow through Coronado and turn right on Rh Dana Place
Hotel Del Coronado will be on your left.
Parking: Street Parking is FREE but can be hard to find. Please allow ample time for Island traffic and parking.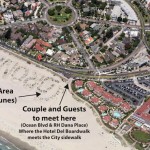 "THE LOCALS" way to get there!
Take Coronado Bay Bridge West (Highway 75)
Continue west on 4th Avenue past Orange Ave.
Turn left on Alameda Blvd (before entering Naval Air Station)
Continue until Alameda ends at Ocean Blvd and turn left
Continue on Ocean Blvd. and find parking when you get close to the Hotel Del.
Ceremony location is on the right as the road turns left and changes to R H Dana Place.